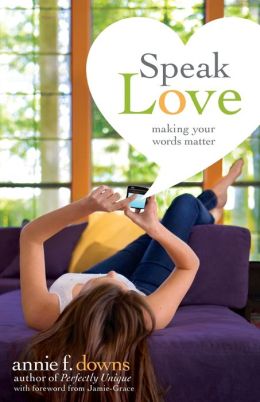 Author: Annie F. Downs
A book written for teen girls, it's the perfect book for junior and high school aged girls, although it speaks to all women. The focus is to speak love because words kill, words give life. The author writes in a vernacular that would be easily picked up by teen girls, and makes the book a conversation between herself and the reader. Her point is that all of us at some point have hurt or been hurt by words and it's time to change. With a perspective focused on God, she discusses how we should aim to be, all the while being realistic of how we actually are.
There is a lot of attention nowadays on bullying, but sometimes the message still doesn't reach the teens. This book is another attempt by an author who battled similar struggles trying to share her message. Annie Downs is down to earth and easy to relate to. Bullying can be something we're too embarrassed or ashamed to share with others, and this book offers another avenue for reflection.
A plus about this book is she gives you the chance to reflect or journal at the end of the chapters. She has you consider what she's shared, with your own thoughts and opinions on the matter. To help you reflect and get on track, she lists Bible verses and also questions to jump start your thinking. And finally a challenge that asks you to use your words to speak love.
Example:
In 1st chapter she has you look at
Joshua 4-5 Proverbs 18:21 John 1:1 2 Corinthians 5:17
Questions:
1) What part of using my words well do I find most challenging?
2) How do I want to be different after reading this book?
3) When can I remember someone being unkind to me with words?
Challenge:
Tell someone you are reading
Speak Love
and tell them why. Just let someone else know why this book and this topic are important to you.
*So here is me meeting that challenge, as I share this book with you. We've all experienced this and continue to see it. So let's be better both for others sakes and our own. Let's try and
Speak Love
.